So I have a completely non-quilt related post, it's just a personal post about my life.
I've been in a funk the past few days, stresses at work mostly.  But my fuse has been short, and everything seems to annoy me.  I have been neglecting some of my chores around the house, and just in an all around bad mood.  In short:  I needed an attitude adjustment.
Well that adjustment came today in an unusual way, cookies.  Now not just any cookie, it was a particular sugar cookie.  And it all had to do in the way it was decorated.  I'm a child of the 80's and like many people from that generation, we still reminiscence back to the AWESOME kids cartoons, etc they had back then.
So take a look at these truly OUTRAGEOUS cookies!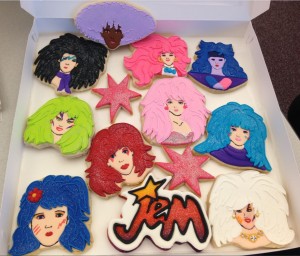 I ordered these cookies months ago (She does good work and is always booked up), the person who makes them works with me, and has a side business called "A Cookie Family".  So imagine my surprise when she told me they would be ready this week.  When she dropped them off at work today I was IMMEDIATELY happy.  They were fun, they are GLITTERY (though it doesn't photograph the best in this picture) and it made me remember when I was a child and watching this great TV show (SO much better than Barbie and the Rockers)
It just put me in a good mood, and leaves me smiling to myself.  Now to place my NEXT order…I believe He-Man and She-Ra will be in order!
The following two tabs change content below.