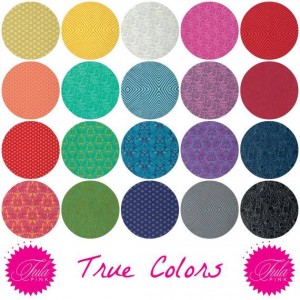 I know I've been gone a long time.  I've been going through an adoption journey, and although I can't go into details things are going great!!  It's exciting, tiring, sometimes scary, but a really wonderful experience.  So I have been kept away from my sewing room for several months, and this leads me to a dilemma…
I'm not really a UFO person, I start ONE project and work in that project until it is completed.  Then I move on to the next project.  I don't multi-task well when it comes to quilting.  I'm not sure why, but it's just not something I do well.  So I currently have a quilt in the works, but am making a new quilt for a special someone who love Mickey Mouse.  So for the first time in my quilting HISTORY I'm going to be working on 2 things at once…I hope the OCD organizationalist in me can manage.
In other news the I have some wonder "True Colors" by Tula pink coming my way, and I can't wait to tell you about the fun project I have planned for that.
And last, but certainly NOT least I plan on trying to make some Wild & Goosey blocks….call me CRAZY!  My friend Charisma inspired me, I LOVE her quilt so much, that I decided to try my hand at my own.  See more about her Wild & Goosey quilt here!
The following two tabs change content below.