So I have always loved the Lone Star quilt pattern.  I decided to try one awhile back with a small quilt, from there I went to a very large quilt.  Now, I'm making one that will be "just right".  It's still in construction, but I wanted to share some of my progress with you.  I'm creating this Lone Star using 10 colors (3 of them are repeated).  I'm SO excited and happy about this color combination, I really love it!!  Two of the "burst" sections are the same multicolored fabric, that for me was moving out of my regular comfort zone.  However seeing the end result, I think it adds a bit of magic to the entire thing.
I start my new job this coming Tuesday, I can't tell you wait a relief it is that.  I was laid off from my job in October of last year and was given the end date of January 1st.  So I was off and running on the job hunt, then my current job extended me until the end of February.  Luckily I found a job at my local hospital and begin there this Tuesday.  If someone would have told me this would all work out this perfectly I would never have believed them!  So now I am employed again, and will have time to focus more on my quilting once again, instead of resume editing, job searching, interviews etc.  So I'm very grateful and thankful for that.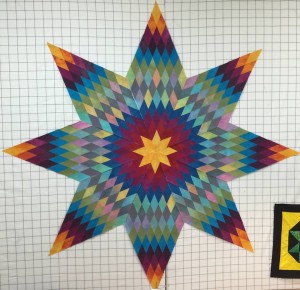 On another personal note, we are one of 3 couples who are being considered to adopt a little 3 year old.  We are the only couple of the 3 who have had any interaction with him (we've provided respite for him the past 6 months).  So we're really crossing our fingers on this one.  A really special little one, so we are cautiously optimistic things will turn out well for us.  (If you have any spare good vibes to send our way please do!)
So now that everything seems to be falling into place, please expect to see new projects and posts on a more regular basis.  I know I was sparartic at best for awhile.  😀
The following two tabs change content below.