I'm not lucky, in fact is there were 10 people and 9 prizes, I would be the guy to walk away empty handed.  However this year I appear to have turned over a new leaf.  First I won a Silhouette Cameo, and now I've won a book!   Color be surprised and exited!
I won the book through my Local Quilt Shop.  The shop is called Pine Needles Sewing Center and it's a GREAT place!  They gave me my first quilting class, and is where I purchased Bernice (my Aurora 430) and Bertha (My 820).  They always have something fun going on, and TONS in things to inspire you to go home and quilt.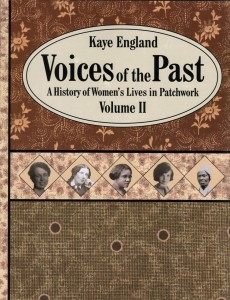 I won a copy of Kaye England's "Voices of the Past – Volume II"  It's a great book with wonderful patterns.  So a big thank you to Jill and the crew of at Pine Needles!  You made my day!
They are also the people who introduced me to Kaye England.  Not only is Kaye a character (go to her Quilting College if you get a chance, she is an absolute HOOT!)  But she's a smart quilter who designed her own line of rulers.  Her rulers in my opinion are the BEST rulers!!  Easy to see your fabric and cut accurately , these gems are wonderful!  (More to come on those, as well as some tutorials, also more info on how you can take a class from Kaye right online.  It's fantastic and the quilt is beautiful!)
The following two tabs change content below.