I decided to start tidying up my sewing room for a few friends who are coming over to start on our BOM (Block of the Month) program.  Well tidy turned into noticing some fabric, and then auditioning some fabric, then cutting fabric….well I ended up making the first block.  So tomorrow I can start on the 2nd.  If you recall from my previous post, this particular BOM is from Kaye England's book "Voices of the Past II"  We are doing the program through our LQS (Local Quilt Shop) Pine Needles Sewing Center.
Anyway I went ahead and decided to go quilter CRAZY!  I am MIXING my batiks, large prints, small prints, plaids….so it's going to be interesting.  And I'm hopefully it turns our beautifully….HOPEFULLY!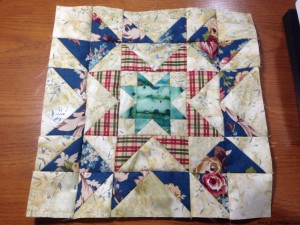 The following two tabs change content below.