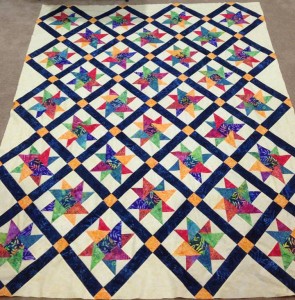 Well I didn't get as much done this weekend as I had hoped.  But I certainly got a good deal done, so I'm content with that.  My "Navaho Rose" quilt is almost complete, just need to add 3 borders.  This was a really fun pattern by Cynthia Rang at The Fabric Patch in Ephrata Washington.
It was also my first time making a quilt with "traditional piecing" which wasn't as bad as I thought it would be.  I use specialty rulers (Nifty Notions rulers – which I LOVE) But I thought it would be a good exercise to make it traditionally, so I was marking squares and sewing on each side of the line to make my half square triangles.  🙂
It's also the first quilt I've put on point, that wasn't from a "Straight to the Point" pattern, and it wasn't bad at all.  I've heard stories about how it was difficult, but it was really straight forward to me.
So hopefully I will have this ready to go this week and sent off to my FABULOUS quilter Charisma.
The following two tabs change content below.