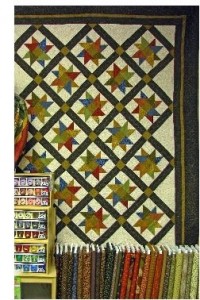 I spent the last 3 days in quilting heaven. My friend Cindi owns The Fabric Patch in Ephrata, Washington. She also recently opened a retreat house, and I was fortunate enough to get to stay there this visit. (When I get back I will have a review of this wonderful quilting retreat).
I also got to spend time with my friend and long arm quilter Charisma, she is such a gifted quilter, and wonderful friend.  I'm like the older brother she never wanted, and she is the sister I always wanted.
We all hunkered down at the retreat house and worked on various projects. Cindi's daughter Brianna, Sabrina, Donna, Faith and Roger (from Portland )also came over for a visit. I decided to make a quilt that's exclusive to the shop called Navaho Rose.  I ended up getting all of the blocks completed and shipped it back home.  So when I get done with vacation I will be ready to get the sashing and borders on it.
Brianna and her fiance Robert, and his friend Alex took me out shooting. Which was fun, I'm gonna be all ready for the zombie apocalypse.  I shot a 22, 9 mil, and a shot gun.  It was really interesting and something I had always wondered about.  So I can scratch it off my bucket list.
It was great! And while I'm sad to leave, I'm excited to see Karl again tomorrow!!
More pictures to come, also forgive any strange wording or phrasing, as doing this on my phone is awkward.
The following two tabs change content below.