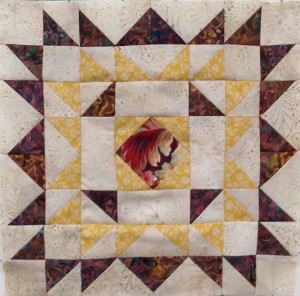 So I know I said the next block would be Jackie Kennedy….but she is still a work in progress.  I need to convert ONE part of that block to smart piecing and the math proved to be my undoing last night.  So I set Jackie aside and started on the next block in the series.  The block to the left is the "Lucretia Coffin Mott" block.  This was an easy block, however I decided to get "jazzy" and change up some of the colors from the original layout (The layout I used is also in the book.)
I'm using the "Nifty Notions" rulers designed by Kaye England (who also wrote the book we're using for the BOM).  For this particular block I used the "Half-Square Triangle" ruler as well as the "Quarter Square Triangle" ruler.  They are available individually in 8″ versions, or there is a 4″ set version also available.  I will be adding a tutorial on using these rulers soon.  But I really LOVE these rulers for making flying geese units, and half square triangle units.  Makes it quick and easy!!  So head out to your local shop to get them, or if they don't carry them you can get them using the links provided here.
On my last trip out to see my friends in Washington state, I got a set for my friends Cindi, and Charisma.  They use traditional piecing techniques, so I had a little demo with them.  (Can you tell if I really like something, and think it works great, that I feel the need to share, and talk it up?)
So 2 more blocks to go and I will be all caught up for my BOM, which will be a nice feeling.  I hate getting behind!  😀
Block of the Month Information:
"Voices of the Past II – Women in History" by Kaye England
Hosted by:  Inspired to Sew in Cedar Rapids, Iowa
The following two tabs change content below.